A question I am being almost continually asked is where I learnt to cook. I have two main teachers, one being myself (sounds a little self righteous, but I will explain) and the other is this guy: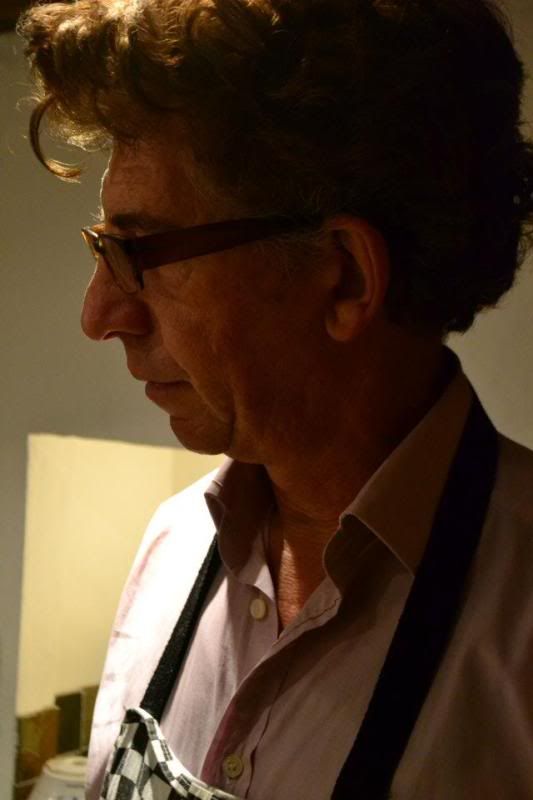 .. the crazy South African I am proud to call my dad. He is the best cook I know and without him I wouldn't be cooking or doing this blog. From a young age he had me interested in food so I owe it all to him really. When I say my other teacher is myself, I think to be really successful in cooking you need to be adventurous. As I have mentioned before I rarely use recipes, I let myself experiment, try new things out, and even if it doesn't always work at least I learnt something.
Now back to my father. The guy really understands food, so I've asked him if he ever comes up with a recipe (because cookery invention is what this blog is really all about) he will pass it on to me so I can share it with you.. et voila! The dude came through! Here is his rather delicious recipe for Spanish Risotto with Sherry and Chorizo:
Pack brown chestnut mushrooms finely diced
Chorizo approx half a stick finely chopped
Ceme fraiche and Parmesan to finish
Salt and pepper as required
In a large flat bottom pan sauté chorizo with a little oil until fat melts and runs
Sauté pancetta in same pan until fat melts and crisp
Add a large knob of butter
Sauté onion and garlic until soft add mushrooms and cook till they all change colour
Add another large knob of butter
Sauté arborio rice and when it starts to brown add the sherry which will hiss and steam
Once its evaporated, spoon warm stock, ladle by ladle allowing each ladle-full to evaporate before adding the next, stirring constantly. This process will take approx 20 mins. 
When you are down to the last ladle or two test the rice - it should be cooked but still 
with a little firmness to the bite
If it requires much more cooking supplement your stock with a little extra court bouillon
One cooked add pancetta, onions, mushrooms, chorizo. 
Stir through, add a good dollop of creme fraiche, parmesan and salt and pepper to taste.
When I had it, it also included chicken, so take a pre cooked breast (from a whole chicken!) and you can add that in with the mushrooms and chorizo at the end.
I hope you like the recipe, I think you'd be a fool not to. Peace and Munchin' x